Holidays on State Vendor/Craft Fair Booth Locations & Event lineup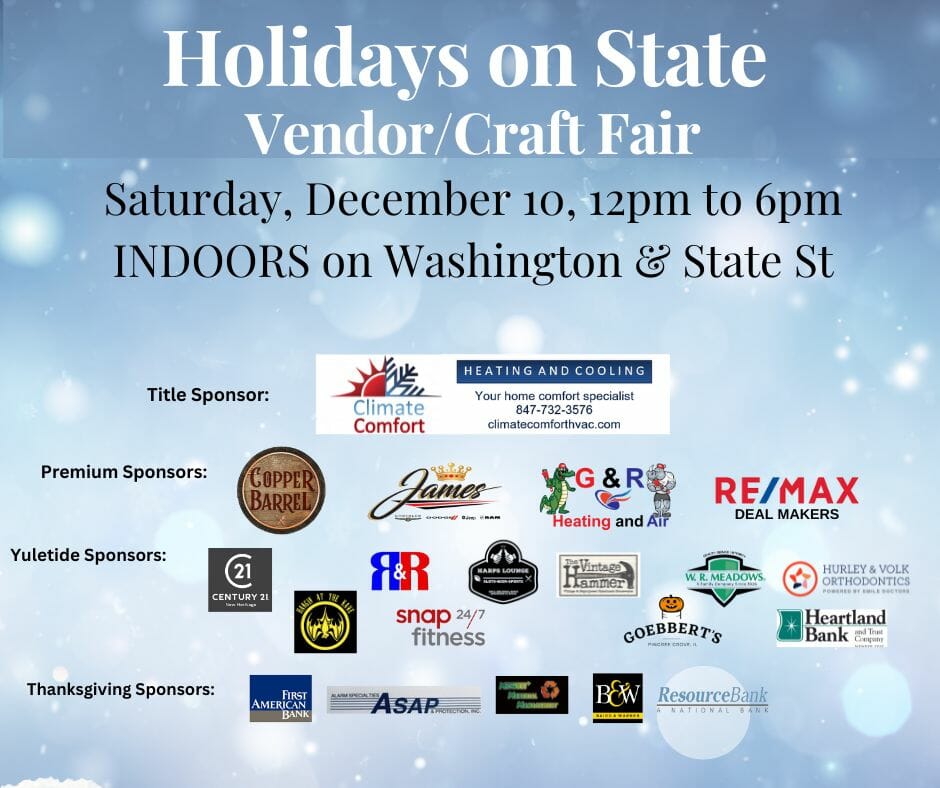 Part of Village of Hampshire's Jingle Bell Fest!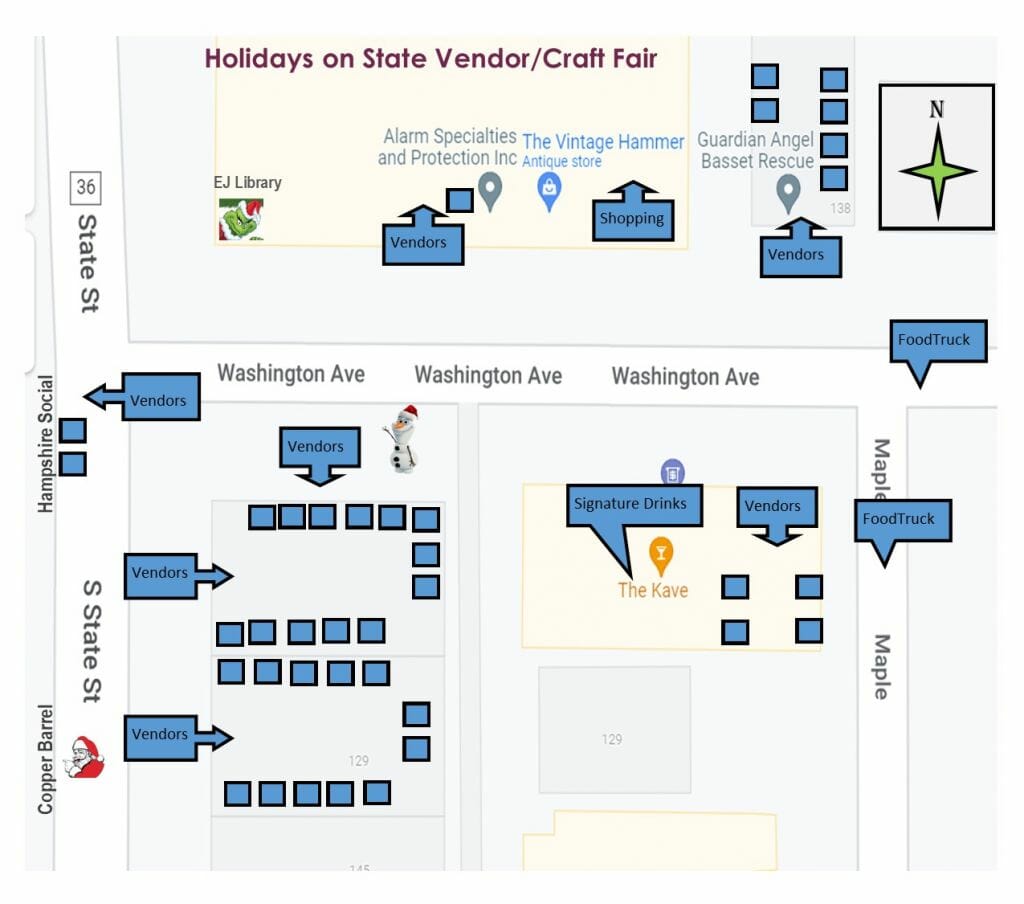 Visit with OLAF:  12 to 2:30pm with C-21 and the Fire Department, then in stores until 6pm
FOOD TRUCKS:  Corner of Washington and Maple Place
EJ Pierogi and Antigua Mexican Grill
Guardian Angel Basset Rescue (GABR), 138 Washington Ave
Nothing Bundt Cakes: Mini Bundt Cakes
JB Kreations: Ornaments, Wood items, Blankets, Gnomes
Birch N Book Co: Hand painted signs, Door hangers
Printed Rose Boutique: Women's boutique clothing, accessories & gifts
R & R Climate: Kids Craft Table & Giveaways
Baird & Warner: Kids Crafts and Giveaways
Snap Fitness: Kids Games and Giveaways
Scentsy: Home fragrance products, warmers, wax bars, diffusers, & cleaning products
The Kave, 123 Washington Ave, Featuring Signature Drinks, Grinch Punch, Specialty Cocoa
Crafts by Michael Kendal: Handmade bird houses and Christmas Decorations
Bath Planet: Information and Giveaways
Chiro One: Information and Giveaways
Dollar Store, 129 S State Street
Norwex: Microfiber- water-only cleaning products
New Morning Retreat: Kids Make & Take Ornaments, information
Carol's Crafts: Crocheted Items, embroidery and quilting items
USBorne Books: Unique books
Roma Street: Hand painted signs, boards, home décor, gifts & jewelry
Atomic Monkey: Laser-cut wood gifts and products for the holidays
Pampered Chef: Kitchen utensils, spices, bakeware, cookware
Tupperware: Containers and kitchenware
Tastefully Simple: Spices, sauces, appetizers & dessert mixes
Love to Loom: Hand crafted items
Leopard, Lace & Grace: Custom Tees, sweatshirts, earrings & holiday crafts
Shadow Dreams: Wreaths/centerpieces, seasonal & holiday items
Century 21 New Heritage: S'mores with the Fire Department
Nikk's Creative Designs: Laser engraved items, 3D printed items, glitter ornaments, etc.
G & R Heating and Air: Ball Toss Game, Giveaways for kids, plus promotional giveaways
Nikki Niche Shop: Jewelry, accessories, clothes, bags, hair accessories & more
Bloom Luxe: Clothing
Kate Parisek: Handmade Christmas décor, wreaths, paintings & ornaments
Handmade by Dad: Wood-carved bottle openers, clothes hangers, luminary boxes
Lion's Club: Free Popcorn
Smile Docs: Promotional items and activities for kids
First American: Prize Wheel and giveaways for kids
ASAP, 120 Washington Ave
Alarm Specialties & Protection: Christmas Signs & table décor
The Vintage Hammer – Unique gifts and furnishings for the home
Hampshire Social: 124 S State Street
Karen Werner's Crafts: Spider ornaments, earrings & wine bottle snowmen & Santas
Katie-Did Creations: Handmade earrings, bracelets, necklaces & hair accessories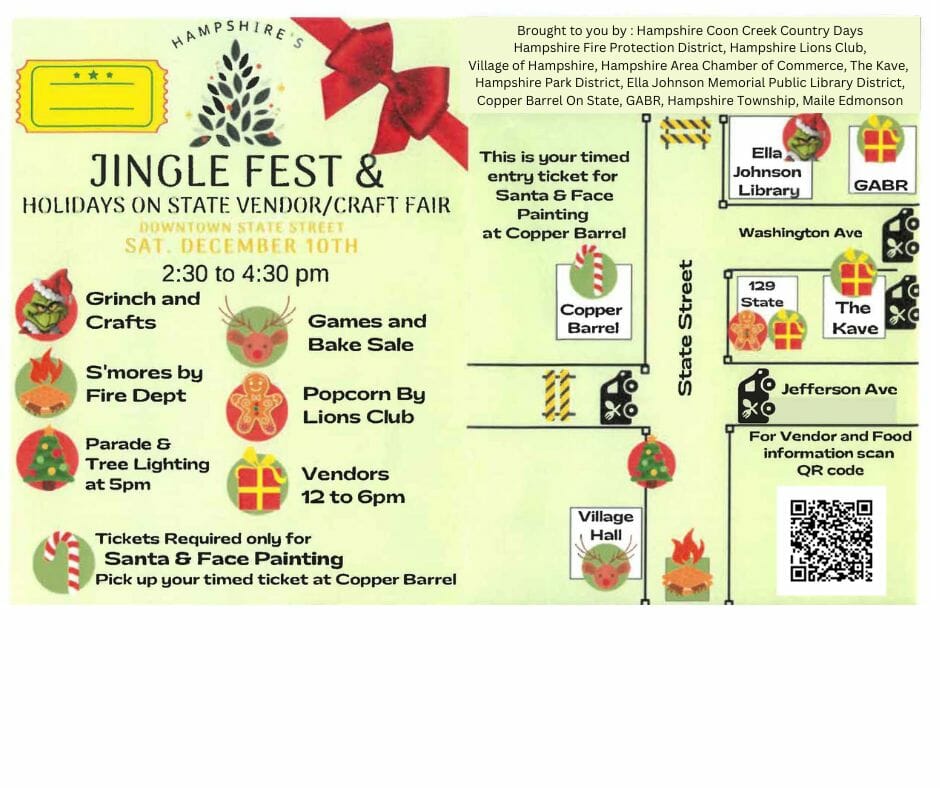 More Food Trucks at Jefferson & State Street
Hot Dogs & Double R BBQ
Copper Barrel
Visit with Santa (Check in at Copper Barrel for Santa Tickets)
Face Painting
Hampshire Fire Department with Century 21 near State Street & Jefferson Ave.
12pm to 2:30pm S'Mores
Visit with Olaf and snap a photo
Ella Johnson Library District, 109 S State Street
Visit Whoville inside the Library
Games and activities
Visit with the Grinch
Village Hall, 234 S State Street
Games and Crafts
4:30 Caroling around the tree, music with DJ Maile Edmondson
5pm Tree Lighting and Lighted Parade with Santa