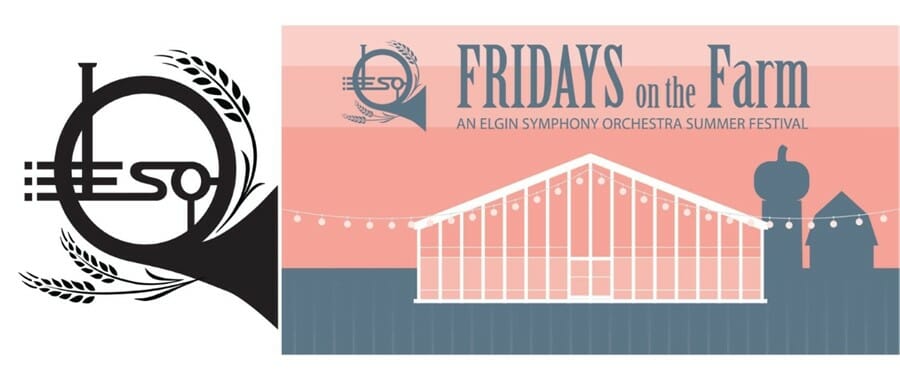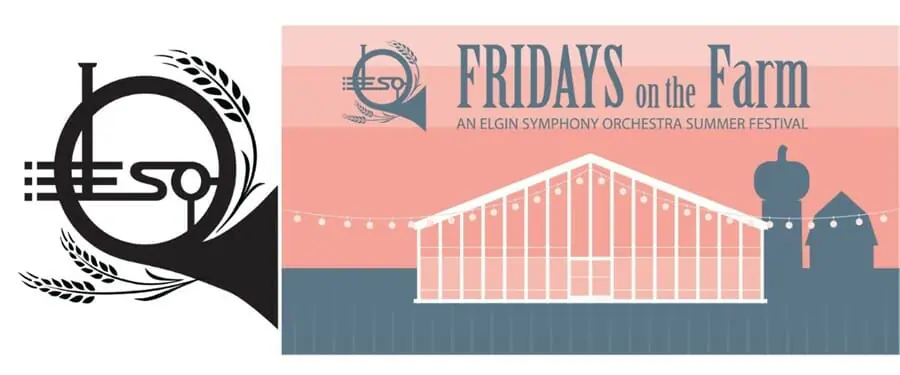 A sharpened focus brings ESO westward to include Hampshire area venue.
One does not normally associate a pumpkin farm with orchestral music, but two of the area's prominent purveyors of these activities have teamed up in recent months to bring the symphonic music of the Elgin Symphony Orchestra to Goebbert's Pumpkin Farm and Apple Orchard.
The combination of an outdoor, socially distanced, venue with the sophistication of a professional orchestra provided the ESO with an opportunity perform for limited audiences during the covid-19 pandemic in 2020.  The idea for the partnership belongs to ESO's Executive Director Erik Malmquist, who grew up in the Village of Hampshire, and thought that Goebbert's farm might be able to offer a barn for the ESO to use for a concert.
"When I called, Jake (Goebbert) said he was building a new venue that was semi-enclosed.  When he gave me a tour, I knew we would be able to use the space for an event," Malmquist said.
In September of 2020, the ESO brought in 32 musicians and an audience of 100 members and Symphony on the Farm was born.  This year, Malmquist says there will be six concerts offered as part of their Fridays on the Farm series.  The concerts will be offered in May, July and August-with both afternoon and evening performances each day.
Malmquist said his outreach to the western part of the county is part of a sharpened mission for the ESO.  The ESO shares space with the Elgin Chamber of Commerce and is taking a greater role in Elgin downtown advocacy.  The ESO has partnered with the Children's Theater of Elgin in 2020 and plans to expand that partnership for the future.
The ESO has also joined the Hampshire Area Chamber of Commerce to help build strong community relationships in this area as well.
"We want to be looked at as not only a classical music provider, but also as a community and social advocate.  We bring music to communities that might not have access to downtown Chicago to see performances.  We can offer that cultural experience to them close to home," Malmquist said.
Malmquist grew up in the symphony, listening to major soloists and musical artists at home with his family.  His father, Joe Malmquist, was hired as a violinist for the ESO as they began their transition to become a fully professional orchestra in 1985.  He continued to play for them throughout his career.
After graduating from Hampshire High School, Erik received his bachelor's degree in music from Luther College in Decorah, Iowa, and his master's degree in violin performance from the San Francisco Conservatory of Music.  More recently, Erik led a successful career in New York working as an agent, managing the careers of opera singers.  After traveling abroad in that position for 6 years, Erik accepted the position at the ESO in January of 2020.
The ESO was founded in 1950 and has been providing world class music to the Elgin area for the past 71 years.  The ESO is currently home to 65 contract musicians and plays in venues that include the Hemmens Cultural Center in Elgin, The North Shore Center for the Arts in Skokie and the Raue Center for the Arts in Crystal Lake.
Malmquist said that the opportunity to bring this music to his hometown and other areas is important because so many of the ESO supporters are people from smaller towns like Hampshire, Pingree Grove, Maple Park and Gilberts.
"We want to be present in the (Elgin) downtown, and we are very proud of the fact that we are playing in the west because we have many patrons in those areas.  It takes real community buy-in to support an orchestra," he said.