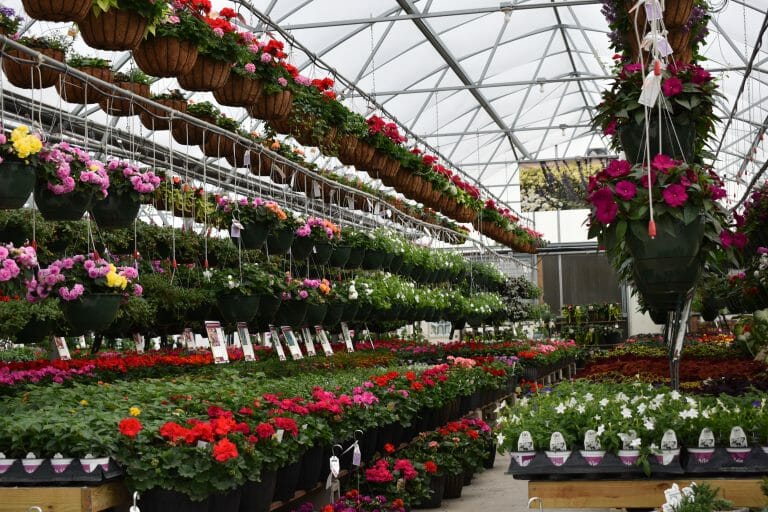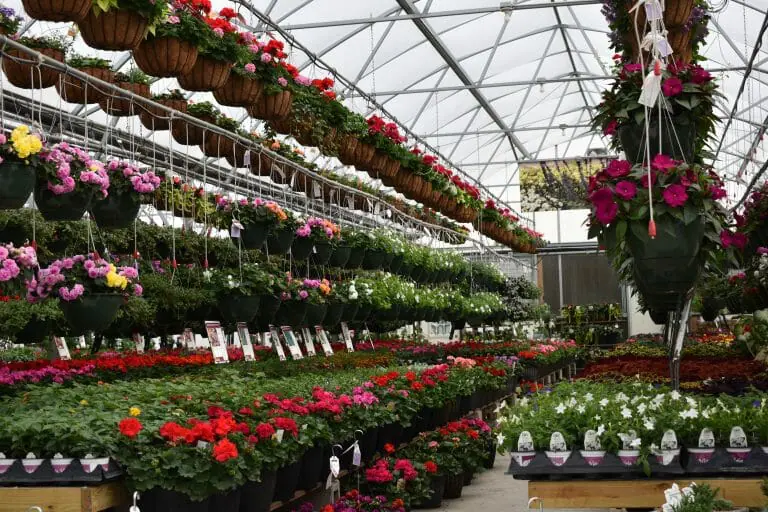 Celebrating 21 Years in Business
The spring planting season is almost here for the home gardener, but Prairie View Farm Market has been hard at work since February, carefully cultivating seedlings, starting vegetable plants and curating hanging baskets for their customers.
Cheryl Linnemann opened the garden center in April of 2000 with her husband, Dan, who is a life-long horticulturist and head grower for Goebbert's.  Cheryl said she grew up gardening with her parents and grandparents, and as a teen, worked at both Tom's and Goebbert's farms.
Prairie View specializes in growing their own annuals, vegetables and about half of the perennials they offer at the garden center.  For buyers who are interested in planting shrubs, Cheryl said they offer local varieties that are grown in midwestern nurseries, so they are more likely to survive in Hampshire area soils and climate.
When Village subdivisions were being developed, Prairie View offered trees on-site, however, now that demand is lower, they sell their trees online, direct from the nursery.
"We partner with Bower and Branch to provide almost any tree you may want," Cheryl said.
Cheryl said the garden center is best known for their combo pots and basket arrangements.  They design these garden pots in-store and will do custom plantings.
"If a customer brings in a pot, we will fill it with the plants they request," she said.
Cheryl said the company does not do landscaping or planting for customers but concentrates on the growing side of the business and works hard to control the quality of the products they sell.
"We want to control the quality of our products…how our pots are designed, how we manage and care for them to make the plants healthy and strong," Cheryl said.
The garden center is fully stocked by May 1st, in time for Mother's Day when, as Cheryl says, people come in to buy gifts, hanging baskets and pots for others.  She said, after Mother's Day, people come in to buy for themselves to get plants for their gardens.
"Our end goal is to grow a quality product and make sure the customer is successful with the products they brought home.  We offer education and try to answer questions, so everyone is successful at gardening," Cheryl said.
Prairie View also helps customers deal with weeds and garden pests that are affecting their soils and plants.
"If they have a problem, we will help.  People have brought in bugs and weeds in bags for us to identify.  We try to recommend something to help them," She said.
Cheryl said she tries out all the plants in her own garden before selling a new type of plant to her customers.  She said plants do not make it into the shop unless they will grow well in our area.
"If it is too hard for me to grow, it's not going to be something I'm going to sell because if I can't grow it, it's not going to be fun for anyone," she said.
Prairie View Farm Market is open Monday through Friday from 9am to 6pm, and weekends from 9am to 5pm.  The center is located at 48W130 Route 72, just a mile west of State Street in Hampshire.  You can visit them on the web at www.prairieviewfarmmarket.com or call 847-683-4970.