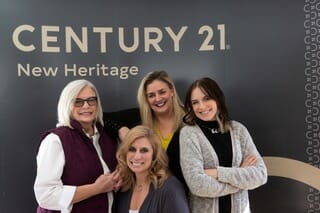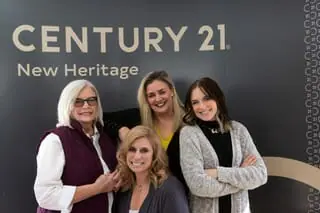 Three Generations of Success
As a cornerstone business in the heart of Hampshire, Century-21 New Heritage celebrates 43 years of service to the village and the surrounding communities.  A woman-owned and managed business from the onset, the real estate brokerage began in 1978 when Lynn Klein opened her first office on State Street.
Over the years her office has grown to include branches in Huntley, Marengo and West Dundee. The Hampshire office is now located at 120 W. Oak Knoll Drive. The company has expanded in other ways as well, with her eldest daughter, Lisa Rossow, becoming co-owner and general manager in 2018; and her daughter, Christine Klein, managing the commercial division.
"Christine holds a CCIM license, which is difficult to get and very few brokers have that designation in Illinois," Lynn said.
CCIM stands for Certified Commercial Investment Member and denotes that the broker has completed advanced coursework in financial and market analysis and demonstrated extensive experience in the commercial real estate industry.
The company celebrates another milestone with the addition of a third-generation family member and realtor to the office.  Lisa's daughter, Abbie Decker, 2020 graduate of Illinois State University, obtained her real estate license and joined the family firm in 2020.
Abbie majored in interior design and now uses the skills she learned to create CAD designs that help show investors and other property buyers the potential of a home should they choose to remodel it.
"Her degree feeds well into the real estate career. It is an advantage and part of the service she provides to her clients."
One of the hallmarks of success at C-21 New Heritage is the culture Lynn and her daughters have worked to create in the office.  Lynn says the focus of her business has always been providing exceptional service to the client and going the extra mile.
"We do not recruit just to have more agents in the office.  We hire people and we help them build their dreams.  We know our business lines.  We reach out to customers and we excel at helping people find and sell homes," Lynn said.
2021 marks the year of change in the real estate business, according to Lynn.  She said that due to the pandemic, every aspect of her business has changed.  The realtors worked from home, and typically, only one realtor was in the office at a time, but they never closed the office, ensuring that clients could be served.
From virtual open houses and video tours of every home, the staff at Century-21 have been able to pivot the way business gets done in order to serve the needs of clients.
But one thing hasn't changed, the New Heritage family of realtors is still closely linked.
"We have zoom meetings every few days so we can see each other.  We are still the New Heritage family.  We have changed the way we do things to maintain our culture," she said.
For all of your real estate needs, contact Century-21 Hew Heritage at 847-683-2000, or stop by the office at 120 W. Oak Knoll Drive, to speak to a realtor in person.