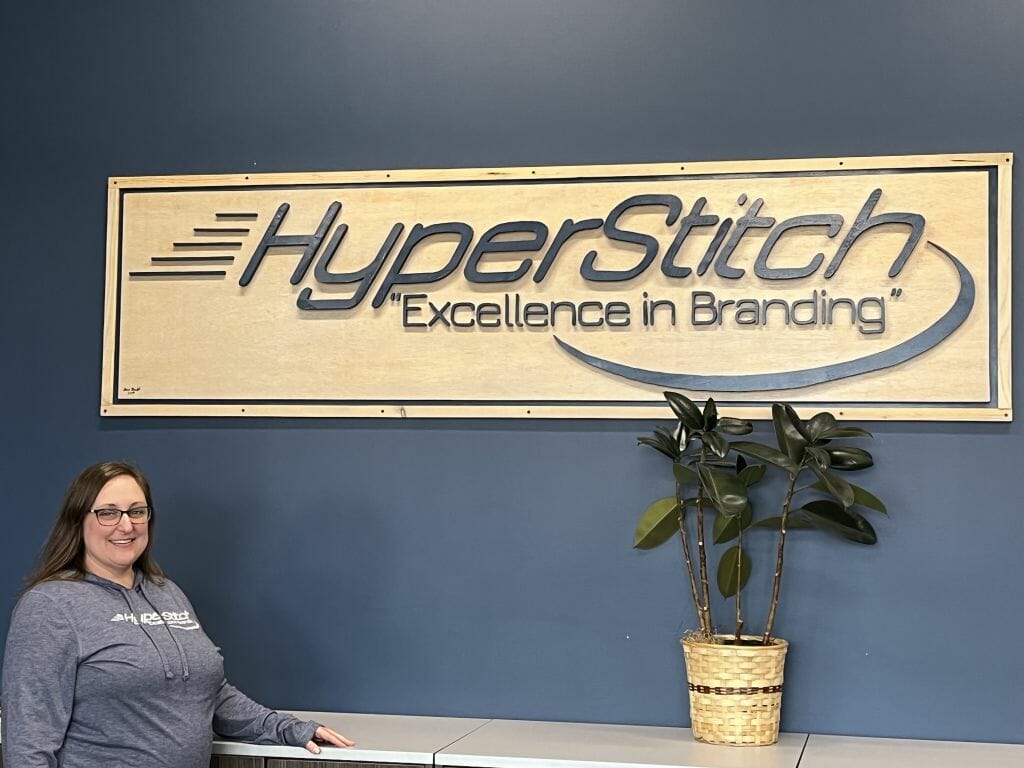 A company built on customer satisfaction
Anyone looking to build their brand should consider the value of wearable brand marketing from a quality-focused company like Hyperstitch. 
From embroidered hats, to screen printed tees, to gift bags bearing your company logo, merchandise marketing tells the world that your business has a fan base.
Hyperstitch owner, Sara White, said she did not come into the business the traditional way.  Her background was in marketing with Motorola, and after earning her MBA from Roosevelt University, she began teaching business courses at McHenry Community College.
At that time, Hyperstitch was owned by Pat Lawlor, who started the business in 1996. Sara said she stopped in one day to buy a shirt, and three days later, Pat called and asked her to buy the business.
"I decided to purchase the business as a way of giving back to a community that had been good to me. I wanted to become a part of the local economy and make a difference, if in a small way," Sara said.
That was in 2018, and Sara has grown the business in many ways since then.
A new location has been key to Hyperstitch's growth.
When Sara bought the business, she made the decision to relocate it from its original building on Prairie Street, to a higher traffic area on US Route 20 in Marengo.
Her showroom consists of a brightly colored array of hoodies, jerseys, tees and baseball caps bearing the logos of local sports teams in Marengo and other towns. A sale rack of $2 tees brings customers into the store and a consignment rack of wood signs made by a local artisan provides additional options for shoppers.
The 4,400 sqft facility is home to 9 employees who together operate the automated vinyl application machines that imprint names and numbers on jerseys; screen printing machines where custom tees and hoodies are embellished; embroidering machines for stitching hats and other material, two graphic artists who create the art for every application, and staff to handle the shipping and receiving of all their products.
With so many different projects in motion, Sara said the opportunity for error can occur at every step.
"We are constantly trying to work on our processes so mistakes don't happen," Sara said.
At Hyperstitch, there is no such thing as "good enough"- it has to be perfect before it leaves the store. With that in mind, Sara has an office manager who keeps her eye on the quality of every piece that moves through the facility.
"It is way more important to me to have someone with their eyes on quality from a customer satisfaction point of view, not a bottom-line point of view," Sara said.
Hyperstitch is growing in new markets.
Hyperstitch is expanding their business to meet the needs of growing communities like Burlington and Pingree Grove where new businesses are locating, and new residents are making their homes.
Hot Deal for Chamber Members
Hyperstitch will be offering a promotion waiving the art fee (a $25 to $30 value) for all Hampshire Chamber members who place a first-time order through the end of May 2022!  Contact the store to learn more.
About this Business:
Name: Hyperstitch
Owner: Sara White
Employees: 9
Located: 219 E Grant Hwy, Marengo, IL 60152
Phone: 815-568-0590
Website:  www.Hyperstitch.com
Email: Sara@Hyperstitch.com