State Farm Taylor Maciaszek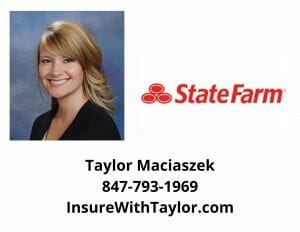 An Agency of Vision and Mission
From the outset, Taylor Maciaszek has had a strong vision and sense of mission for her State Farm agency located in Pingree Grove.
Her business philosophy is to build customer relationships based on mutual trust, quality service and sound advice.  Her agency is built on integrity and with the intention to continue to grow as a cornerstone in the community.
Taylor lives this philosophy through the community service projects she sponsors each year.  From the breast cancer fundraiser 5K she organizes at Goebbert's Pumpkin Patch each year to the car seat and bicycle safety check events she organizes; Taylor works hard to make her community a better place to live.
"I chose Pingree Grove because I wanted to be close to home and a part of a growing community.  I thought this area could use a Good Neighbor," she said.
She began her career with State Farm on the corporate side in 2007 and after four years, she moved into sales.
"I started from scratch.  I didn't buy a book of business or inherit any clients.  I built my business from the ground up," she said.
Taylor said her mission is to be the customer's first and best choice for a variety of financial service products.  She said State Farm offers alternatives well beyond home and auto coverage, including Medicare, Blue Cross & Blue Shield, and because of their partnerships with US Bank and Jackson Annuity, they can offer great investment products for retirement and other long-term financial goals.
When it comes to claims-paying ability, State Farm is ranked one of the best.
"State Farm is the largest insurance company in the U.S. and is the most financially secure company in Illinois," she said.
"To be there with a check and a hug for a customer is invaluable.  It is the best part of this job," Taylor said.
In addition to running a successful office with 3 full time employees and one part time marketing assistant, Taylor is married with 2 children, ages 3 and 1.
To find out more about how Taylor Maciaszek and State Farm can make a difference in your financial bottom line and/or meet you insurance needs, call her office at (847) 792-1969, send an email at taylor.maciaszek.frpj@statefarm.com, or visit her website at www.insurewithtaylor.com.